Tim Zager
Magician * Speaker * Party Crasher
Engage - Entertain - Educate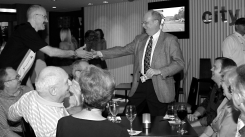 Tim Zager is the Kansas City magician you can count on to bring your guests together at your next corporate event or party.
Whether it's a party at your home or a large corporate event, Tim's entertaining style of magic will be a hit with your guests.
Call (913)735-4122 to find out how Tim Zager can make your next event memorable.
Tim Zager
Magician * Speaker * Party Crasher
The Corporate "Party Crasher

"

He's called the Party Crasher... but that's a good thing! The hospitality room at your event will be the most popular room when you choose Tim Zager to entertain your guests.
Tim brings people together who may otherwise be uncomfortable mingling with other guests.
Entertainment
Hospitality Events
Corporate Meetings
Association Meetings
Networking Events
Trade Conferences
Tim Zager
Magician * Speaker * Party Crasher
Tim Zager
Magician * Speaker * Party Crasher
Contact Tim
Address Info
Tim travels from the
Kansas City area
Other Contacts
Phone: (913)735-4122
Website: www.timzager.com